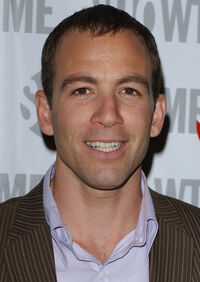 Bryan Christopher Callen
(born January 26, 1967) is an American actor who plays
Bilson
, an employee at
Goliath National Bank
.
Biography
Born in Manila, Philippines, Bryan Callen made his television debut as a series regular on MADtv (1995) and the HBO prison series Oz (1997).He was recently seen as Kirstie Alley's wisecracking assistant on Showtime's comedy series Fat Actress (2005).
Callen has appeared on several television series including Sex and the City (1998), 7th Heaven (1996), Stacked (2005), The King of Queens (1998), Las Vegas (2003), Significant Others (1998), The West Wing (1999), CSI: Crime Scene Investigation (2000), Law & Order: Special Victims Unit (1999), NYPD Blue (1993), Suddenly Susan (1996), Frasier (1993), NewsRadio (1995), How I Met Your Mother (2005), among others. In addition, Callen has appeared in such feature films as Bad Santa (2003) and Old School (2003) and has performed stand up comedy on several TV shows including Late Night with David Letterman (1982).
External Links
Ad blocker interference detected!
Wikia is a free-to-use site that makes money from advertising. We have a modified experience for viewers using ad blockers

Wikia is not accessible if you've made further modifications. Remove the custom ad blocker rule(s) and the page will load as expected.