Blue French Horn
Comments

8
862
legendary pages on this wiki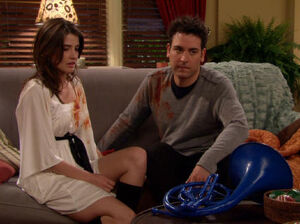 The
Blue French Horn
first appeared in the
Pilot
episode, in which
Ted
steals it for
Robin
after she saw in a restaurant and he said it reminded him of a 'Smurf penis' and she said she'd like one for
her apartment
.
From this point onwards, it can be seen in her apartment on her mantle. When she moves into The Apartment, she keeps it in her room. After moving in with Don, she leaves the horn behind in her empty room for Ted. It is unclear what has currently happened to it, as it cannot be seen in The Apartment anymore.
In Come On, Ted surprises Robin in her apartment with candy, flowers, and a group of musicians with blue instruments (in reference to the Blue French Horn).
In Twin Beds, Barney and Ted get drunk and try to win Robin back, we see Ted has stolen the French Horn again.
In No Pressure, Ted picks Robin up at the airport and takes her to the same restaurant with the Blue French Horn, where it is shown to be chained up.
There seems to be an inconsistency in the story, since in Something Blue, Ted says that the restaurant took his driver's license and are keeping it until he returns the horn, and later he and Robin decide to return it to symbolize the end of their relationship. However, it continued appear in Robin's possession, so they could have stolen it back.
Notes and Trivia
Edit
The Blue French Horn is actually not a french horn, it's a mellophone. With some exceptions, a french horn is played with the left hand and normally uses rotary valves, while a mellophone is played with the right hand and normally uses piston valves. While these valve uses are commonly used to distinguish between instruments, designation between a french horn and a mellophone is in the tubing length, with a french horn having 12ft of tubing and a mellophone having 6. The Blue French Horn is a six foot instrument, meaning it is in fact, a mellophone.