Ad blocker interference detected!
Wikia is a free-to-use site that makes money from advertising. We have a modified experience for viewers using ad blockers

Wikia is not accessible if you've made further modifications. Remove the custom ad blocker rule(s) and the page will load as expected.
Best Night Ever

Performed by

Featured in
Best Night Ever is a song played in the video montage that Marshall made after his and Lily's couple's night with Barney and Robin. An extended version of this song was later released by CBS as a part of How I Met Your Mother Soundtrack.
The video montage features Lily and Marshall super enthusiastic and happy, while Robin and Barney are bored having the "Worst Night Ever!!!"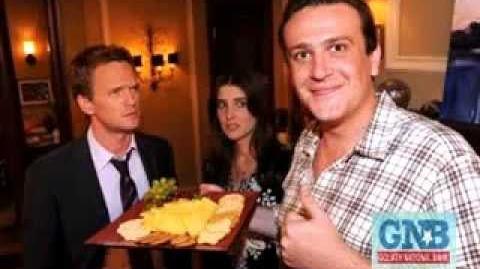 It was the best night ever
Laughter raining down like April shower
Oh we talked for hours

Best night ever
Remember when Lily told that story 'bout the DMV
They're not very efficient there, which is why it was funny

Then we played charades
Lily made some crème brulee-lee-lee-lee-lee
And now that we're best couple friends
There's only one thing left to say

Are you free, Are you free,,
Are you free, Are you free
Are you free next Saturday (That's the 17th)

Are you free, Are you free
Are you free, Are you free
Are you free next Saturday (Lily found a new risotto recipe)

Are you free, Are you free
Please be free, say you're free
Are you free next Saturday

Are you free
(Friday or Sunday would also work, or basically any other day)