Barney and Robin
Comments

515
1,005
legendary pages on this wiki
Barney and Robin

Started Friendship

Started Dating

Break up

Back Together

Married

Divorced

Relationship Status

Friends
Show Outline
Edit
In Pilot Barney introduces Ted to Robin. His first description about her is "you know she likes it dirty". In Purple Giraffe she and Barney become friends. The first sign of a possible relationship between Barney and Robin occurs in the first season's Zip, Zip, Zip, where Robin acts as Barney's wingman (in place of Ted who is seeing Victoria). During this process Robin seems to be better at being the wingman than Ted ever was. At the end of the evening, Barney decides to disrobe as he assumes he will be hooking up with Robin. After presenting his view on the chemistry between the two, he learns that Robin still has feelings for Ted thus ending the night. This episode establishes what Barney thinks of Robin. In Wait For It, Barney comments that Robin is 'a ten' when talking about the hotness of the girl (or girls) he's going to need to find for Ted in order to beat that. During the episode Sandcastles in the Sand, Robin's old boyfriend Simon comes back to town. After going out with him for a few weeks, he dumps her, and Robin is left in a vulnerable state. She invites Barney back to her apartment to watch the music video she made as a teenager called 'Sandcastles in the Sand' and this eventually leads to Robin and Barney accidentally having sex. When they wake up the next morning, they try to pretend it never happened so they do not upset Ted. Ted eventually finds out and, though he forgives Robin, he temporarily ends his friendship with Barney.
Things take a step further again in Miracles. Barney who is now absent from the group because of the incident from Sandcastles in the Sand, rushes to be at Ted's hospital bed when he finds out from Lily about the accident. In doing so, Barney himself is hit by a Bus going the wrong way down a one way street.
As Lily and Marshall ask Barney about what he saw when his life was flashing before his eyes after the bus accident, Barney looks contemplative as he gazes across to Robin standing next to the hospital bed.
In Do I Know You?, Barney confesses his feelings for Robin to Lily in order to seek her advice about what to do. Lily suggests he should tell Robin he loves her, but he dismisses this idea. He chooses sleeping with other girls over a relationship with Robin. In Benefits, Ted and Robin become "friends with benefits" and Barney is clearly so distressed by the situation that he smashes a TV outside the bar every time the gang is talking about it. Barney then tries to ensure that Robin and Ted do not get into anymore fights, therefore giving them no reason to have sex. Ted picks up on this and questions whether or not Barney is in love with Robin. In Mosbius Designs, Barney is shown to be upset at Robin sleeping with Ted's assistant, PJ. Marshall reveals to him that Lily told him Barney is in love with Robin, and Marshall helps him out by hiring PJ to work as a paralegal at GNB. Barney is grateful that Marshall helped him out. In The Leap Robin finds out that Barney has feelings for her which she is freaked out by. She tells Marshall and Lily it's Barney in disgust. Marshall recommends that she "Mosby's him" meaning that she tells Barney that she loves him. It works, but Lily tells Barney that Robin doesn't love him. He confronts her and she says that she does have feelings for him (not to make him upset) and they make out. Robin hooks up with him over the summer and enjoys the physical pleasure and considers a relationship with him.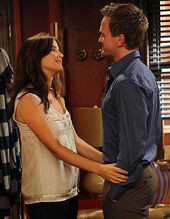 In Definitions, he and Robin develop a complicated relationship which drives Lily insane given her previous vested interest in Barney's new-found feelings, and her friendship with Robin. Eventually, they agree to have "The Talk" and decide to lie to everyone else, and pretend to be in a relationship in order to satisfy Lily. Lily accepts the lie, knowingly, believing that they truly mean what they say, even if they do not know it yet.
In subsequent episodes of the fifth season, Barney is seen to be taking lessons on Robin from Ted (Robin 101), because he is afraid she will dump him. Barney attempts to get US Citizenship for Robin (Duel Citizenship), tracking down Robin in Canada when she wakes up there after a drinking session. In Bagpipes, Robin and Barney have started to fight and do so often, both try to cover this fact up as they try to be a 'better' couple than Marshall and Lily. Finally in The Rough Patch, Barney and Robin break up although not in an argumentative way everyone expects. They decided to remain friends.
They are shown to be close friends during Season 6. They often challenge each other, and Robin consoles Barney when he finds out who his real father is.
In Challenge Accepted, it is seen that the two are (to themselves) considering getting back together, but are convinced otherwise when they see the outcome of Ted and Zoey's relationship. While Barney starts the conversation in the car about how bad they were as a couple, it appears both Barney and Robin get more conflicted about it further into the episode. Their brief discussion with Ted about the past is more an attempt by them to convince themselves than Ted. Although Robin forces Barney to talk to Nora when he sees her on the street, her expressions changes from happy to sad when she sees him asking her out.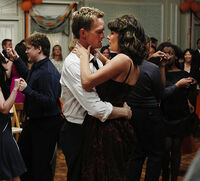 In The Best Man, it is revealed that Robin still has feelings for Barney during their passion-filled dance at "Punchies" wedding.
In The Stinson Missile Crisis, Robin gets jealous when she sees him with Nora and tries to hook-up with him while Nora is away. She later sends a girl to meet Barney during his date with Nora, hoping it will break him and Nora up, but has a change of heart and tackles the girl before she can walk in on their date. Meanwhile Robin gets court-mandated therapy for some time.
Barney and Robin share a kiss at the end of Disaster Averted, which turned into sleeping together as revealed at the beginning of Tick Tick Tick. Robin says that she can't believe she cheated on Kevin and Barney says the same about Nora. They realize that they like each other so they agree to tell their partners about the night before and then talk about their relationship. After breaking up with Nora, Barney is shown to have strong feelings for Robin, who is not willing to end her relationship with Kevin.
In The Magician's Code - Part Two, Barney proposes to Quinn in an airport security room. Returning to Lily and Marshall's apartment, Barney announces this to those present alongside Quinn. Robin appears to be shocked and says nothing while Lily and Marshall first speak to congratulate the couple. After the others leave, Barney and Robin have a bittersweet conversation about how it's their last chance to run away together. But Robin, believing Barney to be truly happy with Quinn, tells him she's happy for him. In the final scene, Robin is revealed to be the bride at Barney's wedding (despite the fact that Barney and Quinn became engaged earlier in the same episode).
In Farhampton, a flashforward to the wedding reveals both Barney and Robin having cold feet. Back in the present, Robin is surprised when Quinn asks her to be one of her bridesmaids prompting Barney to reveal that he never told her about their relationship. Robin is hurt that Barney seemingly deleted every piece of evidence of their relationship (so that Quinn would never find out) but later he gives her a key to a storage unit on 622 West 14th Street where he keeps a box full of things from their time together. Upon seeing this, Robin is moved and becomes teary-eyed while Barney is shown smiling as he thinks about Robin while riding in a cab heading home with Quinn.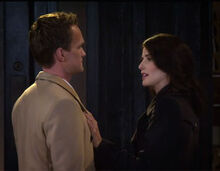 In Splitsville, Robin hesitates on breaking up with her boyfriend Nick. Robin takes Nick to "Splitsville", a nearby dessert place where couples tend to break up, but tries to back away from dumping him Barney turns up at "Splitsville" and tells Nick that he and Robin are over because Barney and her are in love. When Robin tries to tell him to stop, telling Nick that Barney doesn't really love her, Barney interrupts stating that he loves everything about her. His sudden confession is enough to convince Nick and shocks Ted, Lily and Marshall who hear every word over the phone. Robin also appears stunned by his confession and later tells Barney that he was really convincing but they both know it is not true.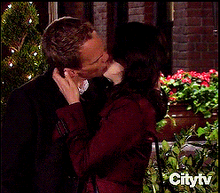 In The Final Page - Part Two, Robin finds out that Barney had asked Patrice to help him complete the final play in his Playbook: The Robin. Not only would this be his last play, but also the last of his single life as he proposed to Robin at her favorite spot in the city in a Christmas environment with rose petals and candles, and tearfully she said "yes".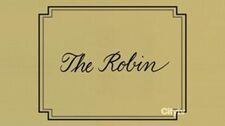 In Band or DJ?, Robin wants Barney to ask her father for his blessing on their wedding, but he turns down Barney's request to marry Robin. While Barney attempts to win over Robin Sr., Robin declares that she will marry Barney without his permission and will not invite him to the wedding because Robin Sr. got married to A woman named Carol without her permission. Barney later helps the two reconcile and Robin Sr. agrees to her request to share a dance with her at the reception.
In Ring Up , Both of them are shown very happy at being engaged.Then they both run into problems of their own. Barney getting over one-night stands and Robin adjusting to life as in engaged women. They are both having a difficult time going through their issues.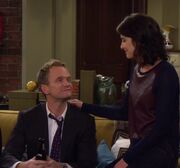 In Weekend at Barney's, Robin is upset to discover that Barney never really burned the Playbook and that he lied to her. She tells him he can't lie to her anymore, which makes Barney tell her that lying is what he's good at. He's a magician so misdirection and deceit are his stock and trade. He points out to her that everything he did to get her to say yes to him were all a bunch of lies. Later, Barney gives Jeanette permission to blow up the actual Playbook.
Something Old had Robin frantically searching in Central Park for a locket that she buried when she was 14 when she came to New York with her dad. She reveals to Ted that she has been having fears about marrying Barney and if she could find her locket, then that would be a sign from the universe to forget her worries and marry him. But she is devastated when she finds the box, but the locket is missing and interprets this as a sign from the universe that she and Barney should not be getting married. Ted helps her while Barney plays lazer tag.
In Something New, Robin and Barney scheme together to take down one obnoxious couple who demanded them to put away their cigars and who stole their table. On Friday Robin and Barney are happily preparing to go get married, taking off in a limo driven by Ranjit, on their way to their wedding in Farhampton.
The Wedding Weekend: Barney and Robin come to find out that they may be related, but this turns out to be a false alarm. When Barney discovers his brother James is getting a divorce, Robin worries about how Barney will take the news, later Barney reassures Robin that he doesn't need James to make him believe in true love as they have each other for that. Worried that their flame will extinguish after 60 years of marriage, Barney and Robin decide they must have one last "bang" before they're married. In the end though, they realize they have nothing to worry about and instead of having sex, they visit with their elderly relatives. Barney tells Robin he is always going to support her no matter what, but in doing so he declares he's severing ties with his mother and brother but claims Robin ordered it. Barney and Robin steal Lily and Marshall's story of how they met to impress their minster. They are later exposed by Lily insulting descriptions of them which makes them mad. They later go to their minster and beg for forgiveness hoping that he will still marry them. He refuses and asks them to leave. On their way out Barney admits they shouldn't have lied about their story as both of them admit that they love the story of how they got together. Barney gets caught in the middle of a conflict between Robin and his mother. Barney tells Loretta that Robin can't have kids, which he learned of the previous fall before they were together. Barney immediately hugged her when she told him. He asks his mother "to be nice" to Robin because he's marrying "a girl who means more to him than kids". After this conversion Loretta realizes just how much Barney loves Robin because Robin means more to Barney "than anything in the world". In the end Loretta makes peace with Robin. Barney organizes a Canadian-themed rehearsal dinner at an ice rink planned just for Robin and gives her his own personal wedding gift to her. Robin tells Barney how much she loves him, and promises to get him back for this and Barney tells her to "bring it"; right before they kiss. In the final scene, Barney admits that he loves Canada as he lists several amazing things Canada has given the world including one-quarter of himself and best of all you (Robin). She thanks him and the two of them skate off happy together to have a good time at their rehearsal dinner. Barney afterward gets very drunk and then goes missing. They find him but throughout Robin's wedding she begins to start second guessing Barney.
In The End of the Aisle Barney vows to Robin that he will always be honest to her. She kisses him and they get married.
In Last Forever - Part One Barney and Robin reveal that they got divorced in 2016 because Robin was traveling all the time and Barney hated it. In October of 2016 at Marshall and Lily's party, Robin sees Barney hit on slutty police officers and get their numbers. She turns and sees Ted kiss his fiancé. These thing make her sad so she leaves. Lily asks why and Robin says it is because the gang is dead to her because it consist of a married couple, her ex-husband hitting on girls right in front of her and the man she should have ended up with, with the beautiful mother of his child. She leaves the apartment and it symbolizes the end of Barney and Robin's relationship.
Significant Episodes
Edit
Zip, Zip, Zip

- Robin becomes Barney's bro/wing-woman and they hang out together and discover they both like Cigars and like to cheat in Battle Ship. The two play laser tag together.
How I Met Everyone Else

- Ted's date, Blah Blah, mistakes Barney and Robin for a couple. Robin denies the claim with 16 nos.

Sandcastles in the Sand

- Barney comforts Robin after Simon dumps her again, which leads to her showing him the "Sandcastles in the Sand" video, which leads them to have a one night stand.

The Goat

- Barney and Robin try to pretend their first night together never happened.
Do I Know You?

- Barney confesses his feelings about Robin to Lily, who arranges a little date for them although Barney in the end decides he'd rather sleep with other girls.

The Leap

- Robin discover Barney has feelings for him eventually, she is freaked out but is eventually able to reciprocate them and they kiss.
Similarities
Edit
Barney and Robin have a number of similarities which make them such good friends:
They both have a Canadian background.
They have a mutual love for Scotch (along with the rest of the gang)
The both had issues with their fathers; Barney not knowing who his father was and Robin being estranged from hers.
Both have issues with relationships and wanting to be in relationships. Commitment phobia as it were.
Both love cigars.
They both love to place bets while watching sports.
They both have step-mothers.