This is the fifteenth entry of Barney's Blog, written by How I Met Your Mother main character Barney Stinson. It was retrieved from the CBS archive Here.
This entry is in response to the episode The Limo.
Party Alert!
Tuesday, December 13, 2005, 5:43pm
I'll be hosting a New Year's Party this year… in my pants.
That's right. Another legendary event thrown by yours truly. If you want to see how the Barnacle gets down (or you just want to get down my pants), click on the link below: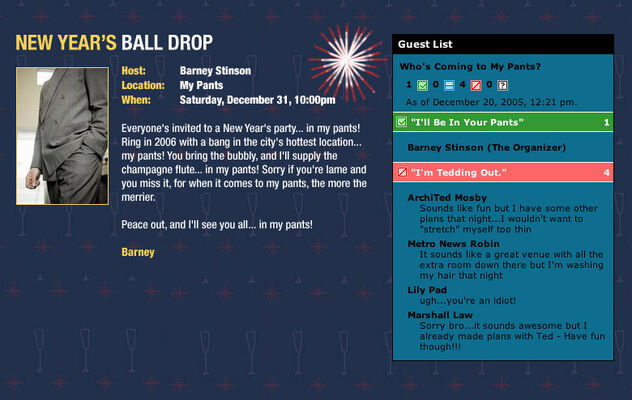 GET PSYCHED 2006
We all know New Year's is an enormous, steaming pile of disappointment. A full year's worth of failed expectations and fizzled dreams wiped clear to make room for 365 more days of failed expectations and fizzled dreams. This year? New strategy: Release my annual "Get Psyched" mix early. People say a good mix should rise and fall, but I disagree: a truly awesome mix should be all rise. Experience Get Psyched 2006 - the perfect antidote for the craptitude that is New Year's Eve. You're welcome.
PLAYLIST
1) YOU GIVE LOVE A BAD NAME - Jonathan B. Jovi
2) THE HUMPTY DANCE - Digital Underground
3) COME SAIL AWAY - Stix
4) DON'T STOP BELIEVIN' - Journey
5) THE TRANSFORMERS THEME SONG - O. Prime
6) YOU'RE THE BEST AROUND - Joe Esposito
7) HIGH ENOUGH - Damn Yankees
8) JESSIE'S GIRL - Rick Springfield
9) ROCK YOU LIKE A HURRICANE - The Scorpions
10) HIP HOP HOORAY - Naughty by Nature
11) CHANGE OF HEART - Tom Petty
12) RUN AWAY - Slade
Notes and Trivia
Ted's mention of not wanting to "stretch" himself too thin is in reference to the fact that Ted planned to (and did) hire a stretch limo for New Years Eve.
In

The Limo

, Barney asks the gang if he got the evite shown in this blog.
This blog gives one version of Barney's Get Psyched Mix
Ad blocker interference detected!
Wikia is a free-to-use site that makes money from advertising. We have a modified experience for viewers using ad blockers

Wikia is not accessible if you've made further modifications. Remove the custom ad blocker rule(s) and the page will load as expected.