This is the seventh entry of Barney's Blog, written by How I Met Your Mother main character Barney Stinson. It was retrieved from the CBS archive here.
This entry is in response to the episode Okay Awesome.
Findings
Saturday, October 15, 2005, 4:36am
(Club Okay - HIGH TWO out of a possible HIGH FIVE)
It turns out Okay is barely adequate, exhibiting a marked lack of grindable cutlets. Quick suggestion for Club Okay: Lasic eye surgery for the bouncers. The situation inside couldn't get much uglier. And I mean that. Let's just say in a pond this small, you'd have better luck catching a fish at a family reunion. -Barney out.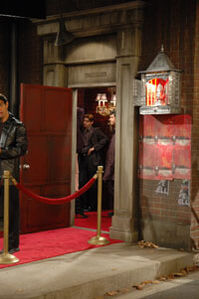 Club Okay's ugmo-friendly defenses


I am, of course, kidding. About the family reunion thing. That was a joke.
Notes and Trivia
Barney saying "you'd have better luck catching a fish at a family reunion" is in reference to the fact that the girl he tried to seduce in Okay Awesome was his cousin.
Ad blocker interference detected!
Wikia is a free-to-use site that makes money from advertising. We have a modified experience for viewers using ad blockers

Wikia is not accessible if you've made further modifications. Remove the custom ad blocker rule(s) and the page will load as expected.