This is the ninety-second entry of Barney's Blog, written by How I Met Your Mother main character Barney Stinson. It was retrieved from the Barney's Blog at CBS.com Here.
This entry is in response to the episode Right Place, Right Time.
CRUNCHING THE NUMBERS
May 4, 2009
I recently reached an important personal goal: 200 women. That's like 100 women, twice...but you know, with 100 totally different women. Since it's clearly just a numbers game, I think it's safe to say I'm in the lead.*

With the almost mythic "200" conquered, I started wondering how "200" fits in the pantheon of landmark numbers.
Professional athletes, Pharaohs, and Kennedys excluded from competition

200 BY THE NUMBERS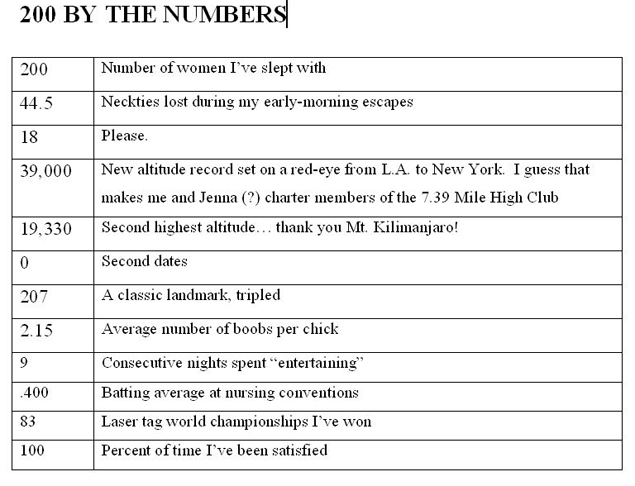 Notes and Trivia
Ad blocker interference detected!
Wikia is a free-to-use site that makes money from advertising. We have a modified experience for viewers using ad blockers

Wikia is not accessible if you've made further modifications. Remove the custom ad blocker rule(s) and the page will load as expected.