Ad blocker interference detected!
Wikia is a free-to-use site that makes money from advertising. We have a modified experience for viewers using ad blockers

Wikia is not accessible if you've made further modifications. Remove the custom ad blocker rule(s) and the page will load as expected.
This is the one hundred and fifty-fifth entry of Barney's Blog, written by How I Met Your Mother main character Barney Stinson. It was retrieved from Barney's Blog at the CBS website here.
This entry is in response to the episode The Broath.
BROMAN EMPIRE
Edit
Mar 20, 2012
Kind citizens of the Stinson Republic,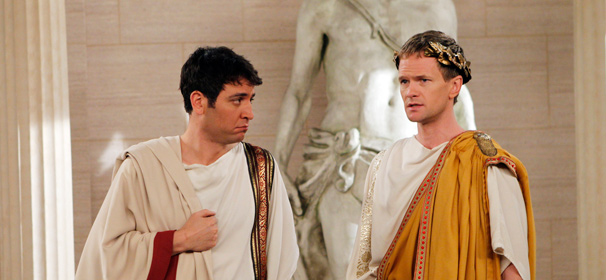 As you know, much of our current Western culture has its roots in classical wisdom, the majority of which can be traced back to the Ancient Broman Empire. For proof, look no further than last weekend's toga party or those glorious melon-shaped domes on top of our capitol buildings.
In addition, countless Latin phrases (the most significant being "Homines Ante Feminae," or, Bros Before Hoes) have made their way into contemporary vernacular. For these contributions, and many others, we are forever indebted to our great Broman ancestors. (Especially, Caligula. That dude was dirty. Seriously, rent the movie.) Below are ten other Latin phrases, still in common use today…
QUID PRO BRO
CARPE DOUBLE DIEM
IPSO NO FATSOS
SEMPER THIGH
SEX OFFICIO
E PUBUS UNUM
SEX CETERA
PERSONA NON GRABASS
ANNO DOMINATRIX
DEUS SEX MACHINA
Notes and Trivia
Edit