This is the one hundred and sixty-ninth entry of Barney's Blog, written by How I Met Your Mother main character Barney Stinson. It was retrieved from Barney's Blog at the CBS website here.
This entry is in response to the episode The Autumn of Break-Ups
BRO-DOG ACCESSORIES
December 6, 2012
BRO-DOG ACCESSORIES Just doing a little shopping for my new wing-dog, Brover…
THE SUIT Tim got him in for an emergency suit fitting last week. We decided on a classic for my bro-dog: black, single-breasted, three buttons. (It was four, but he ate one, which I only discovered this morning on our walk. Eww.)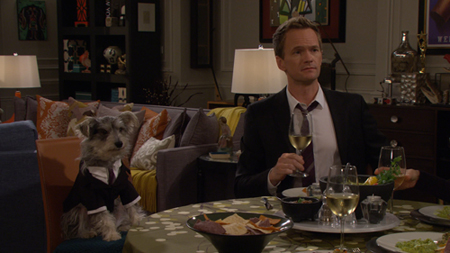 THE TAGS Brover and I are running a new play— the Lost & Found. Brover "runs away" but only gets found by hot chicks. You might be wondering, "what if Brover is found by some 30 year-old uggie?" He sleeps in the doghouse, that's what happens.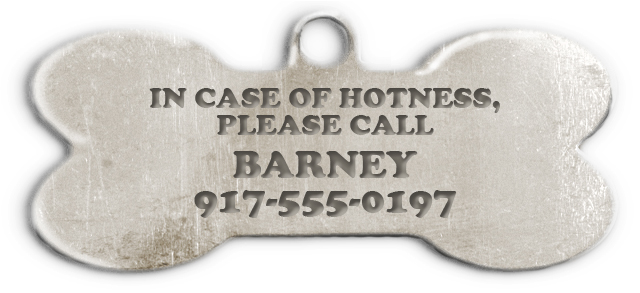 THE DOGHOUSE I rented Brover a 2,500 square paw apartment just down the street. It's a 3 bedroom, 2 fire hydrant loft and features a partial park view so he can gaze out at squirrels while chewing his morning newspaper.
ONE NIGHT STAND BAG You love 'em and leave 'em—why should Brover do any different? This kit includes all of your bro-dog's one-night stand necessities: • his and her robes • massage oil • pee pads • heartworm medication • rawhide chew toy to prevent cuddling and freshen breath • a fresh change of flea collar for the next morning • canine space suit disguise in case of stage 5 clinger (Those asteroids won't stop themselves!)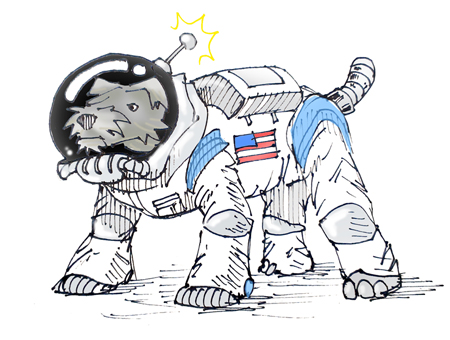 Illustration by Spencer Smith
Notes and Trivia
Ad blocker interference detected!
Wikia is a free-to-use site that makes money from advertising. We have a modified experience for viewers using ad blockers

Wikia is not accessible if you've made further modifications. Remove the custom ad blocker rule(s) and the page will load as expected.