This is the one hundred and fifty-fourth entry of Barney's Blog, written by How I Met Your Mother main character Barney Stinson. It was retrieved from Barney's Blog at the CBS website here.
This entry is in response to the episode Karma.
A ROSE BY ANY OTHER NAME
Feb 28, 2012
Once a haven for intellectualism and ingenuity, our great nation has lost its competitive edge. Sadly, we are no longer the world leader in science and industry and our youth have little to no interest in mathematics… which is kind of okay because let's face it, math blows.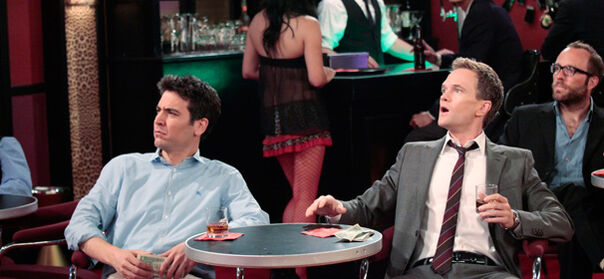 Of more concern, however, is a general lack of creative inventiveness. No where is this more evident in the stage names our precious adult entertainers have chosen for themselves. Below is a list of some terrible stripper names I encountered last night.

TERRIBLE STRIPPER NAMES

Beefo
Pontiac
Grover Cleavage
Hepatitia
Gert
Turnip
Halitosis
Frank
Inflammatia
Methy
Contagia
Alimony
Plasma
Varicosia
Timeshare
Libya
Hivey
Panda
Obesity
Cauliflower
Purgatory
Melons DeGenerous
Influenza
Ammonia
Diabetes
Popcorn
Obsolescence
Bobo
Sludge
Gordita
Clumpy
Notes and Trivia
Ad blocker interference detected!
Wikia is a free-to-use site that makes money from advertising. We have a modified experience for viewers using ad blockers

Wikia is not accessible if you've made further modifications. Remove the custom ad blocker rule(s) and the page will load as expected.