Ad blocker interference detected!
Wikia is a free-to-use site that makes money from advertising. We have a modified experience for viewers using ad blockers

Wikia is not accessible if you've made further modifications. Remove the custom ad blocker rule(s) and the page will load as expected.
Bang Bang Bangity Bang

Performed by

First Featured in
Bang Bang Bangity Bang is a song that was featured in Of Course, A Change of Heart, Ducky Tie and Nannies. A slow-jam version of the song, by Barry Manilow, can also be heard in Coming Back and Mom and Dad. It was also featured on the How I Met Your Mother Soundtrack.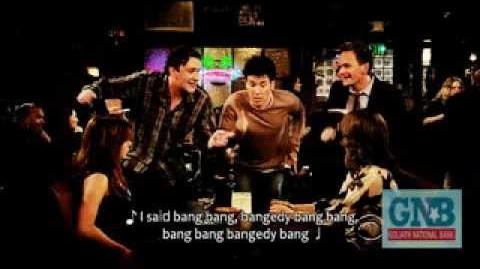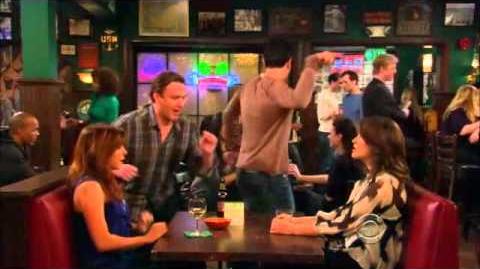 Bang, Bang Bangity Bang
I said Bang, Bang Bangity Bang
Bang, Bang Bangity Bang
I said Bang, Bang Bangity Bang
Bang, Bang Bangity Bang
I said Bang, Bang Bangity Bang (Bang, Bang, Bang, Bang)
Bang, Bang Bangity Bang
I said Bang, Bang Bangity Bang

Bang, Bang Bangity Bang
I said Bang, Bang Bangity Bang
Bang, Bang Bangity Bang
I said Bang, Bang Bangity Bang
Bang, Bang Bangity Bang
I said Bang, Bang Bangity Bang
Bang, Bang Bangity Bang
I said Bang, Bang Bangity Bang

Bang, Bang Bangity Bang
I said Bang, Bang Bangity Bang
Bang, Bang Bangity Bang
I said Bang, Bang Bangity Bang

Bang, Bang Bangity Bang
I said Bang, Bang Bangity Bang (Bang, Bang, Bang, Bang)
Bang, Bang Bangity Bang
I said Bang, Bang Bangity Bang (Bang, Bang, Bang, Bang)
Bang, Bang Bangity Bang
I said Bang, Bang Bangity Bang (Bang, Bang, Bang, Bang)

Bang, Bang Bangity Bang
I said Bang, Bang Bangity Bang
Bang, Bang Bangity Bang
I said Bang, Bang Bangity Bang
Bang, Bang, Bang, Bang