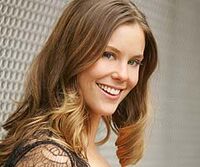 Ashley Williams (born November 12, 1978) is an American television, movie and Broadway actress. She is the actress that plays Victoria.
Biography
Williams made her big-screen acting debut in a non-speaking role in the 1993 ensemble comedy-drama Indian Summer, which also featured her sister.
Williams had a role in the television series Good Morning, Miami (2002–2004). Since then she has also appeared in episodes of Psych, E-Ring, Monk,Huff, Law & Order: Special Victims Unit, Side Order of Life, The Mentalist, and Warehouse 13.She also appeared on Royal Pains. In May 2003, she had a guest starring role on American Dreams, playing singer Sandie Shaw and performing Shaw's 1964 hit "(There's) Always Something There to Remind Me" on American Bandstand.
In 2006, she starred in the Off Broadway play Burleigh Grime$.
In 2010, she starred in the made-for-TV Lifetime movie, Patricia Cornwell's The Front, which premiered on the channel on April 17, 2010.
Notes and Trivia
She won an on-line straw poll conducted by the How I Met Your Mother production staff as to which ex-girlfriend of Ted Mosby, the show's main character, is the fans' favorite. Her character, Victoria, won 128 to 117 over Robin Scherbatsky, with a smattering of votes for other candidates. [1]
References
External Links
Ad blocker interference detected!
Wikia is a free-to-use site that makes money from advertising. We have a modified experience for viewers using ad blockers

Wikia is not accessible if you've made further modifications. Remove the custom ad blocker rule(s) and the page will load as expected.