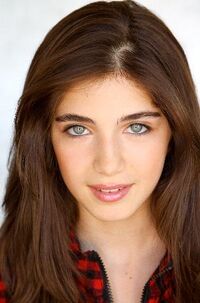 Andra Nechita
is the actress that played
Robin
's imaginary daughter in
Symphony of Illumination
.
Biography
Andra Nechita was born in Romania, Europe. Living there for 5 years, her parents made the move to Dublin, Ireland where they lived for three years. It was not until moving to Los Angeles in November 2005 that Andra showed interest in acting. As a little girl, Andra would always sing and perform for her grandparents. She had the passion to become a singer. After moving to Los Angeles, however, she decided to give acting a shot. She started taking acting classes at TVI Actors Studio in Studio City weekly and also took classes with various coaches at Young Performers Studio. Soon she left TVI, and remained with YPS auditioning and mainly focusing on her training. It was not until she left YPS and got a contract with Angel City Talent that she started booking roles. In May 2009, Andra landed the lead role of Cleopatra in Cleopatra X starring Anderson Silva. But in the year 2010, she auditioned for the role of Gaby in Bad Teacher landing the role the next day. After filming for Bad Teacher ended, Andra booked a commercial for Audi followed by a lead in the dramatic thriller upcoming movie, Cats Dancing on Jupiter as Young Kylie Philips. She also worked on a PSA titled 'Hope' starring Justin Chambers for the education crisis in California. Andra has also worked a lot in theatre for her school and for other companies.
Notes and Trivia
Andra always wanted to be a singer, not an actress until she gave it a shot and completely fell in love with acting.
External Links
Ad blocker interference detected!
Wikia is a free-to-use site that makes money from advertising. We have a modified experience for viewers using ad blockers

Wikia is not accessible if you've made further modifications. Remove the custom ad blocker rule(s) and the page will load as expected.