Alyson Hannigan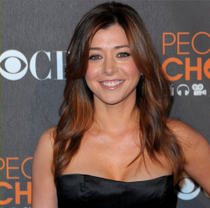 Born:
Alyson Lee Hannigan
March 24, 1974
Washington, D.C., U.S.
Occupation:
Actress
Years active:
1986–present
Character:
External Links:
Alyson Lee Hannigan (born March 24, 1974) plays Lily Aldrin and Jasmine on How I Met Your Mother.
She's also known for playing the geeky witch Willow Rosenberg on Buffy The Vampire Slayer and the band geekette Michelle in the American Pie movies. She is married to actor Alexis Denisof who is recurring guest star on HIMYM, playing Sandy Rivers. Their first daughter is named Satyana Marie Denisof, born on March 24, 2009. In December 2011, it was reported that Hannigan was pregnant with her second child. Her second daughter, Keeva Jane Denisof, was born on May 23, 2012.
External Links
Ad blocker interference detected!
Wikia is a free-to-use site that makes money from advertising. We have a modified experience for viewers using ad blockers

Wikia is not accessible if you've made further modifications. Remove the custom ad blocker rule(s) and the page will load as expected.